Book of Pages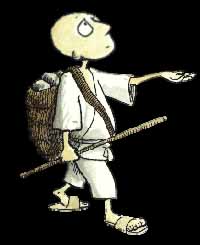 Book of Pages was the result of several years' work, on and off between commercial work. It's a collection of observations on the modern world, made by following the journey of Jiriki, a simple monk from the mountains. The book is unusual because (amongst other things) the main character never says anything and does very little; even then, what little he does do is not very successful. But then, you're not supposed to be looking at him.
The main premise of Book of Pages is that technology's primary effect on humans is that of making their lives more complicated. Is the loss of simplicity a reasonable price to pay for the benefits which technology provides?
More about Book of Pages:
extracts, reviews, information
See some of the illustrations in colour for the book's 20th anniversary.
The book was published in the UK on 1st August 2000 by Ringpull Press and is currently out of print. In fact, much of it was written around 1989–1991 — well before most people were familiar with digital culture and hypertext — and, with hindsight, some of its themes now seem somewhat prescient.